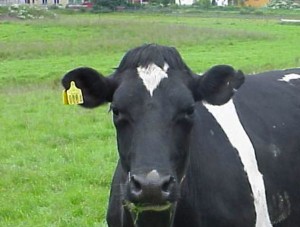 I've never forgotten seeing the black and white cow with a window carved into its side. I was in grade school, living outside of Milwaukee, and always loved going to the Wisconsin State Fair each summer.
There was a beautiful cow lazily eating in a pen, indifferent to all of the people milling about.
When I walked around the enclosure to see its opposite side, however, the cow was anything but normal-looking. The cow's left side had a glass-covered hole in it. The man standing next to it and stroking its head was talking about cows' digestion. He said the window allowed access to the cow's stomach for research about nutrition and illnesses. The man then shocked the audience by opening the cover of the hole and reaching inside the cow's upper stomach to extract a handful of grass that was in the process of being digested. The cow remained aloof.
I have now learned that the cows are  called "cannulated cows" or "rumen-fistulated cows." I have been able to confirm that my memory of seeing one at the Fair is correct. As I remember it back then, the window looked more like a miniature glass dryer door, one that swung open with a small hinge on one side. I am not sure of that. The photos I see of cannulated cows now have a different look. To learn more about rumen-fistulated cows you can watch this video which is extremely interesting.
I woke up thinking about that black and white windowed cow this morning.
I woke up wanting a window into my body and what is happening inside right now, this very minute. I want to know if the clinical trial I'm participating in is having any effect on my cancer. For now we use other indicators but they are unreliable. Even blood tests for tumor markers lack validity and reliability in many people (why they are not used as screening tools to diagnose breast cancer in the general public).
And so I forge ahead, taking pills, getting injections, wondering if it is doing anything to keep my metastatic breast cancer under control. Side effects vary day by day. Yesterday was a bad day. Terrible back pain, gastro issues, a migraine, and fatigue had me down for most of the day. But today I feel better.
So I focus on today.
I envy the researchers who gain knowledge in real time. I envy the way their information can be analyzed and promptly used to help sick cows.
I wish I had an immediate view inside, an indicator as to what my body is doing. Instead, the image of the black and white cow with the window in its side stays with me.
§ 6 Responses to The cow with the window in its side"